The sketch style represents a tattoo in the form of a drawing or a sketch. This gives an imperfect but very personal and authentic effect. The tattoo style was trendy at the start of the 20th-century sketch. It's even popular now.
This style of tattoo is visually similar to a sketch on paper. These tattoos feature exposed guidelines and are often combined with the watercolor style. This style gives the impression of a sketchy sketch that sometimes looks unfinished. Relatively new, this type of tattoo has been growing in popularity over the past few years.
It's a free and uncompromising design, made to pass the time. Indeed it would help if you had this habit when you have paper and pen in hand, whether in the classroom, talking on the phone, waiting in line at an office, etc.
Some of these sketches are so impressive that they become true works of art. So they became a tattoo.
The plus of this style is the concept, which is quite different from conventional versions. Thus, you renew your look with an original design and an accurate skin sketch.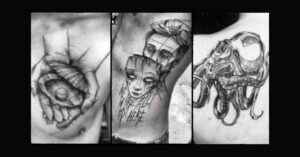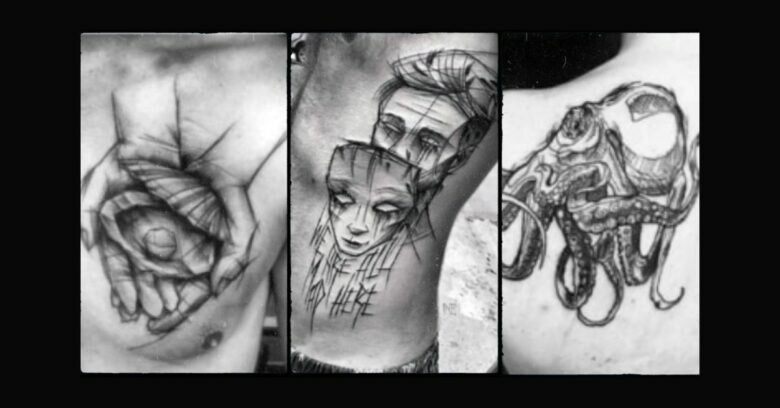 Among the characteristics of the sketch tattoo, we highlight the following:
Fast and smooth strokes;

Lines that do not perfectly represent a particular element;

Models with different finishes – simple or with many details;

Improvised models that enhance the creativity of the artist;

Authenticity in the forms, without commitment to follow a model;

There is neither symmetry nor unity. 

The finish can be enhanced with other tattoo styles, such as realism and blackwork.
The freedom in the forms they appreciate the sketch tattoo, so asking the tattoo artist for a design that has everything to do with his look is attractive.
In addition, the design must be perfectly adapted to the tattooed area, especially in terms of colors and details. In any case, we recommend you seek professionals specializing in the drawing. Here in Brazil, several have stood out in the storyline (we list some of them at the end of the content).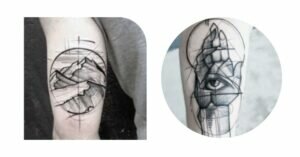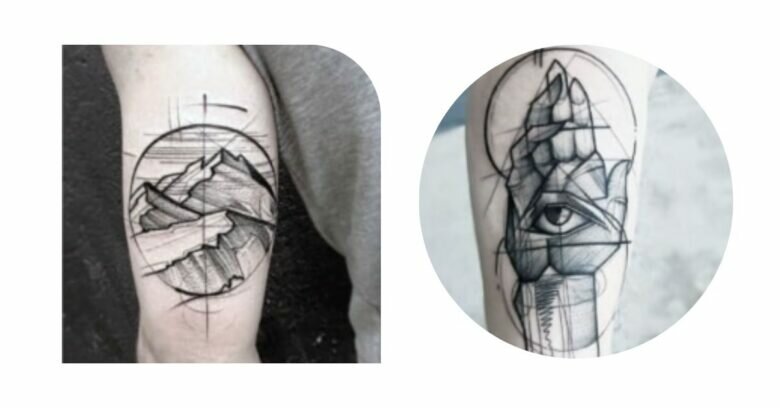 Photos and Ideas for Sketch Tattoos
Because it is a very different style, the tattoo sketch requires fine work and several sessions until it is finished.
What values ​​the design is authenticity, and since the skin is not paper, the professional must have an excellent experience to make the tattoo flawless.
According to experts, the best places to draw are the arm, wrist, back, and ankles. The fewer terminations and curves, the result will be more efficient and require less work.
However, it would help if you talked to the tattoo artist to define all of this, including whether the design will be completely black or have colors and effects (like watercolor). Some models are classic and sought after by many people.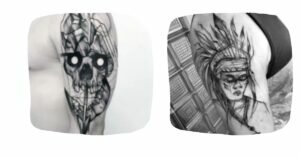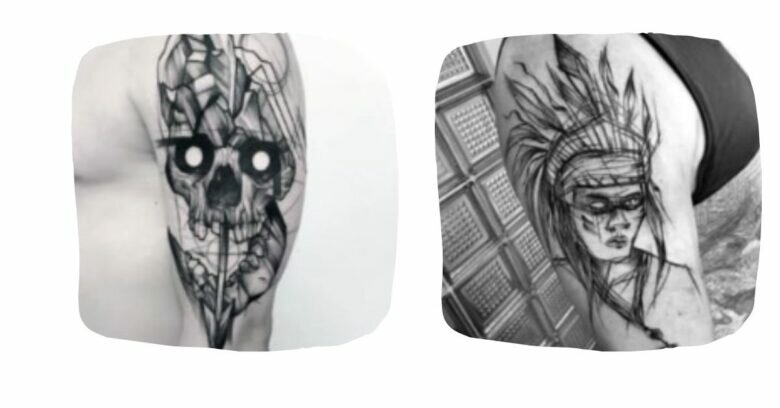 To inspire you, we have selected the most conventional sketch tattoo ideas. See how impressive it is!
Lion
The lion tattoo is trendy. The animal symbolizes leadership, power, justice, and wisdom. In addition, it can be depicted as a whole body, either all black or with orange/yellow detailing.
Loup
LE Loup is also conventional in several projects. The face of the animal can be fully detailed and with an impressive finish.
Blackwork
Blackwork is common in many designs sketched on the skin, bringing more personality to the tattoo.
Owl
owl means wisdom. Another design with a lot of concepts stands out in many sketch tattoos. It is worth making one on the arm, back, and wrist, among others.
Skull
The skull tattoo is super conventional in both men and women. Imagine following the sketch concept. There are many excellent suggestions for every taste. Skull tattoos stand out for their versatility in shapes and details.
Flowers
What about tattooing a flower following the sketched style? You can choose a species to mark on the skin: daisies, roses, lilies, and lotuses, among others.
Samurai
Samurai designs are also standard in this style. Many artists like to follow this model inspired by people while putting forward a realistic concept.
Dragon Ball
Dragon Ball is a classic anime that enchants generations. It is an excellent inspiration to make sketched designs inspired by famous characters like Goku and Vegeta in average or Super Saiyan form.
In addition to Dragon Ball, you can be inspired by other famous anime, such as Naruto and Pokémon.
Other designs
See other sketch tattoo examples and choose the one that has everything to do with you:
Choose a design that has everything to do with your style and personality. The tattooed area also makes all the difference. The best parts are the leg, arm, back, and ribs.
Conceptual designs can inspire both men and women with a lot of meaning.
Outline tattoo artist tips to follow.
The sketch tattoo presents a surprising result, far beyond the designs we see there.
Since it is not simple, the tattoo artist must study hard and do many tests until he reaches perfection and makes beautiful designs.
Fortunately, there are several famous artists for their impeccable work. We have listed a few that you need to know and follow on Instagram:
Array
This Mexican artist specializes in surreal designs with blackwork finishes. Faces and animals stand out the most.
Instagram: s.leeray
Jesse Gutierrez
The Peruvian tattoo artist in Brazil specializes in new school designs with a colorful and watercolor finish.
Instagram: jessegutierrezart
Frank Carrilho
This Canadian has more than 160,000 followers and stands out for its great iconic designs, with many details and shapes.
Instagram: Frankcarrilho
BK
South Korean artist known for sketching blackwork is considered one of the largest in this segment, with over 300,000 subscribers.
Instagram: bk_tattooer
Kamil Mokot
Surreal designs based on natural elements are the most common among the works of this German tattoo artist.
Instagram: kamilmokot
There are also many Brazilian artists known for this style:
Rodrigo assi
Catarinense, with more than 100 thousand followers, stands out for the concept of blackwork. It features incredible exclusive designs.
Instagram: rodrigoassitattoo
Fabio Vogler
Tattoo artists from Curitiba are known for drawings of mandalas, faces, and animals.
Instagram: fabio.vogler
Marquinho André
Gaucho from Santa Cruz do Sul, a tattoo artist for over ten years also specialized in realistic tattoos.
Instagram: marquinhoandretattoo
Leandro Amaral
With more than 70 thousand followers, he serves in Santo André, São Paulo. His sketching style has an impressive realistic imprint.
Instagram: leandroamaraltattoo
To learn more about artists in several Brazilian states, access this link.
Advice and care
If you intend to do a sketch or any other style of tattoo, it is essential to pay attention to a few tips:
Do enough research to choose the best professional

Choose a design that has everything to do with your personality

Define the area of ​​the body to be tattooed

Make budgets based on your investment score
And what are the worries?
Remember that some designs require multiple sessions until they are ready. So be patient. Thus, the result will be very satisfying.
Always follow the tattoo artist's recommendations. Keep the tattoo area disinfected. Avoid scratching and touching with a dirty hand – and don't remove the skin that forms, as it protects the body against infections.
Do not expose your skin to the sun, nor enter the pool and the sea. Choose to wear lighter clothes and limit your consumption of fatty foods. Thus, the healing of the skin is fast, and the tattoo looks beautiful.
Anyway, we hope you enjoyed our sketch tattoo guide.